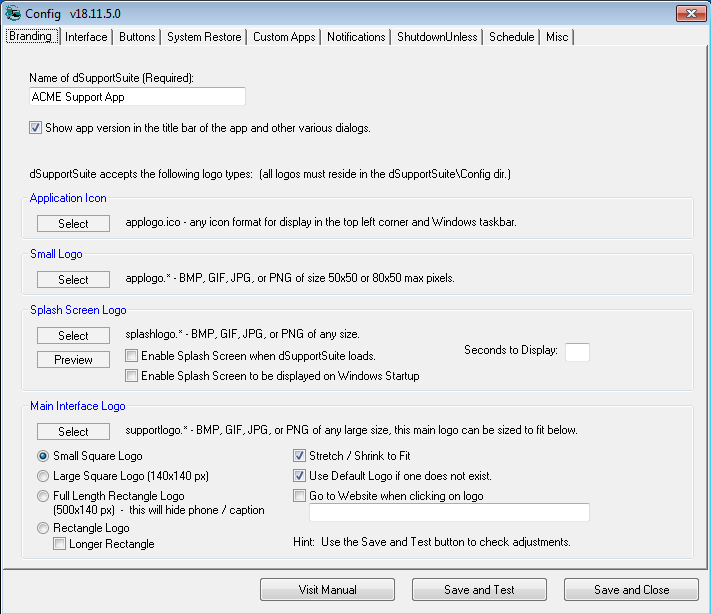 Name of dSupportSuite (required) – The name you wish to call this app, other than dSupportSuite.  This name will appear in the title bar of the application beside your company name, and in other areas such as desktop/start menu shortcuts, etc.
Show App Version in the title bar … – This puts the current dSupportSuite version in the title bar of the app along with your company and app name.
Logos / Branding
dSupportSuite supports 3 logo formats for display in various areas of the application.  ALL 3 logos MUST be placed inside the dSupportSuiteConfig directory to be recognized by the application.  No settings are required to enable the logo support, and provided the logos are named as below and exist in the appropriate directory they will be displayed.
applogo.ico – this is the application icon and will be displayed as the application icon in the Windows taskbar as well as on desktop/start menu shortcuts, etc.

applogo.ico can be any valid Windows icon format file.

applogo.* – this is a small logo displayed in various locations of the app.

Recommended 50×50 pixels, or up to 55×80 pixels.
Can be BMP, JPG, GIF, or PNG (animation/transparency supported.)

supportlogo.* – this is typically the largest full company logo with details, which is displayed on the main application interface only.

Can be BMP, JPG, GIF, or PNG (animation/transparency supported.)
150×150 square or x300 long, you have several options on this config page to stretch/shrink the logo to fit, make it square or rectangle, etc.
Obsolete
These requirements are now satisfied by either dSupportSuite Mgmt Console or d7x depending on your distribution type.
Company Name – this MUST match your registered company name EXACTLY so copy/paste from your registration email.
Product Key – this MUST contain spaces so copy/paste EXACTLY from your registration email.
Your dCloud Credentials are required to be entered on this page.
NEW:  d7x now includes 25 resell-able licenses of CryptoPrevent White-Label for each year purchased!
d7xTech Show
Join us for live tech chat, product questions, support, and technical training right here!
Customer or not, you are welcome to drop in and discuss anything 'tech' with us!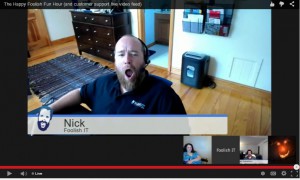 Subscribe to Blog via Email