Pre-Requisites:  (Both Methods)
If you have any copies of d7II or d7x on the same PC, ensure that you have used the END SESSION to close one of them before the upgrade.  You should also delete the original d7II.exe or d7x .exe file that you are attempting to upgrade.  (An open session on the same PC from any other copy of d7II.exe or d7x.exe will cause the new copy of d7x to run the original exe that started the session.)
You can keep a backup copy of the d7II or d7x directory that you wish to upgrade, even with the d7II or d7x .exe files in them, but be sure it is in a different location than when you last used d7II or d7x (rename the folder.)
To keep/update an existing configuration.
Download the "blank config" zip file, and extract only the d7x vX.X.X.X.exe inside an existing directory with a registered/working copy of d7II.exe or a previous d7x vX.X.X.X.exe file.  Be sure to delete the original exe file before running the new d7x vX.X.X.X.exe file.
IF you are prompted to enter account credentials, you can try to IMPORT your existing license from that screen.  It may be named Reg.Settings.dat, d7II.License.dat, and/or d7x.License.dat and will be in the .\Config or .\d7x Resources\Config folder.  If you choose to enter your credentials and license info, you will also be asked to create a "Technician Password" and it is extremely important that you use the same one you originally created with d7II or d7x; see The "Technician Password" below for more information.
To start with a new/blank config or starter config.
Download your choice of the "Starter Config" or the "Blank Config" zip file, and extract to a new folder, launch d7x vX.X.X.X.exe and enter your account credentials (and license data for earlier license types.)
It is strongly recommended to register d7x (or any fresh download of a d7x or d7II product) by using the Browse button to find/import your existing d7II\Config\Reg.Settings.dat file, which ensures the exact same "Technician Password" is used, and this is extremely important; see the note on The "Technician Password" below for more information.
Notes:  (Both Methods)
#1  The "Technician Password"  (IMPORTANT!)
#2  For remote usage, please see d7xRDT, the "d7II SFX Mini" replacement (Video)
#3  If for some reason you are updating from d7II v2.x (which was not forced to update to d7II 3.x) then you may want to see this article:  Recreate the d7II v2.x Look and Feel
NEW:  d7x now includes 25 resell-able licenses of CryptoPrevent White-Label for each year purchased!
d7xTech Show
Join us for live tech chat, product questions, support, and technical training right here!
Customer or not, you are welcome to drop in and discuss anything 'tech' with us!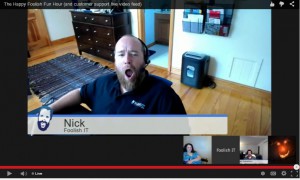 Subscribe to Blog via Email